"When the Levee Breaks" was written and first recorded by Kansas Joe McCoy and Memphis Minnie. The original dates back to 1929, and Minnie's first-ever recording session. She was already a veteran of almost two decades of performing in jukes, bars and tent shows, with jug bands and on street corners, when she and her partner, Kansas Joe McCoy – a fellow singer/songwriter/guitarist, eight years her junior, with whom she'd hooked up a few years earlier – were talent-spotted by a Columbia Records scout, and the duo were whisked off to New York to record.
Kansas Joe McCoy and Memphis Minnie When the Levee Breaks - Famous 1927 Mississippi River Flood
The song features McCoy on vocals and rhythm guitar. Minnie, the more accomplished guitarist of the two, provided the embellishments using a finger picked-style in a Spanish or open G tuning.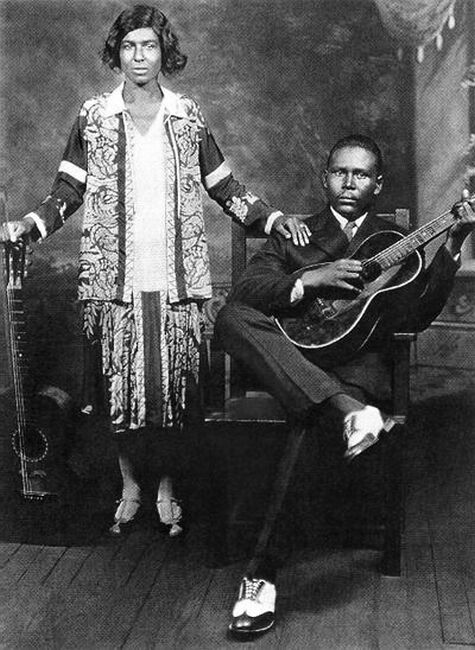 The musical and cultural bloodline of Louisiana-born, Delta-raised Lizzie Douglas (1897–1973), better known to history as Memphis Minnie, runs through the veins of every woman who's ever picked up a guitar and rocked the blues. A powerhouse singer, guitarist and songwriter whose raunch, skill and charisma challenged the male monopoly of down-home guitar blues, she was sufficiently formidable to best the majestic Big Bill Broonzy himself in blues contests held on his own Chicago turf. Bukka White rated her as "about the best thing goin' in the woman line". It's therefore bitterly ironic that the song with which this pioneer is most frequently associated in the rock era is one she neither sang nor wrote.
The lyrics reflect experiences during the upheaval caused by the Great Mississippi Flood of 1927. The flooding affected 26,000 square miles of the Mississippi Delta – hundreds were killed and hundreds of thousands of residents were forced to evacuate. The event is the subject of several blues songs, the most popular being "Backwater Blues" by Bessie Smith (1927) and "Mississippi Heavy Water Blues" by Robert "Barbecue Bob" Hicks (1928).
Bessie Smith-Back Water Blues
Jimmy Page says he quickly realized Led Zeppelin had to abandon an early pass on "When the Levee Breaks." They'd tracked a version in a studio in London while working on what became their fourth album, before moving on to Headley Grange about 50 miles outside the city. Before the released version, Led Zeppelin attempted the song twice. They recorded an early version of the song in December 1970 at Headley Grange, using the Rolling Stones Mobile Studio. It was later released as "If It Keeps On Raining" on the 2015 reissue of Coda. Prior to relocating to Headley Grange, they tried unsuccessfully to record it at Island Studios at the beginning of the recording sessions for their fourth album.
If It Keeps on Raining (Rough Mix)
"I think most bands would have gone, 'Hey, well that's really cool, we'll put it on the next album.'" Page told Uncle Joe Benson on the Ultimate Classic Rock Nights radio show. "But when we got to Headley Grange, which was a few good months after that, and I heard the drum sound in the hallway, that iconic drum sound … the minute I heard that sound on these reflective surfaces, I said, 'We're gonna revisit that number.'"
As work commenced on the first of two versions to be recorded in the 18th century building, Page said he was inspired to find a "whole different approach" to the production. "I got some ideas about how to record the harmonica with backwards echo, and the whole thing starts to become this whole sort of sonic journey," Page said. "But the inspiration for me was hearing the drums in the hall, and I go, 'I know what we're doing with this.'"
"You've got backwards harmonica, backwards echo, phasing, and there's also flanging," Jimmy Page told Uncut Magazine in 2008, "and at the end you get this super-dense sound, in layers, that's all built around the drum track. And you've got Robert, constant in the middle, and everything starts to spiral around him. It's all done with panning."
John Bonham's drumming, played on a Ludwig kit, was recorded in the lobby of Headley Grange using two Beyerdynamic M 160 microphones which were hung up a flight of stairs; output from these were passed to a pair of Helios F760 compressor/limiters. A Binson Echorec, a delay effects unit, was also used. Page used his Danelectro guitar for the slide guitar part.
Portions of the song were recorded at a different tempo, then slowed down, explaining the "sludgy" sound, particularly on the harmonica and guitar solos. It was the only song on the album that was mixed at Sunset Sound in Hollywood, California (the rest being remixed in London). Page identifies the panning on the song's ending as one of his favourite mixes "when everything starts moving around except for the voice, which remains stationary."
Led Zeppelin - When The Levee Breaks
Hits: 35